Last updated on May 2nd, 2019 at 11:12 pm
There are many guitar accessories that are available for guitarists that will make their lives much easier. Whether you are a beginner or an advanced guitarist, these accessories are essential to have if you are truly passionate about playing guitar. Here are 20 guitar accessories that you absolutely need.
1. Guitar Case/Gig Bag
A reliable hardshell guitar case and gig bag are probably one of the most important things to have as a guitarist. Our guitar is a valuable instrument and it's important that it's safely stored when it is not in use or if we are transporting it.
Now the reason I say you would need both a guitar case and a gig bag is that each method of storage is used for different reasons.
Gig Bag
A gig bag is great if you are performing some kind of show/gig. The lightweight and shoulder straps make gig bags a lot easier to travel with.
They're not as heavy as a hard case and they don't take as much space. This also makes it easier for you to store your guitar in the comfort of your home without taking too much space in your room.
Gig bags also have a lot of storage space for your other guitar accessories such as your straps, picks, cables, extra strings, etc.
When buying a gig bag, do not go for the cheaper models as they don't offer that much protection and can generally break much easier.
Buy a good, higher quality gig bag with thick padding to ensure that your precious guitar is safe.
Hardshell Guitar Case
While a gig bag does offer some decent protection for your guitar, it won't completely replace the amount of security you will get from a hard case. There are different circumstances where I would rather use a hard case than a gig bag.
If you are part of a band, you may find yourself transporting your guitar in vehicles along with everyone else's equipment.
Even if we carefully store our guitar in a safe spot, things shift and move around during travel.
Gig bags may be more portable and convenient, but the durability of a hardshell case won't be beaten when it comes to ensuring that your guitar will be safe in any situation.
Guitars vary in many price ranges, but I truly believe that an expensive guitar deserves to be in a nice hard case, even if you're just going to leave it at home.
Now, hardshell guitar cases are more expensive than gig bags, but the peace of mind that you get from it will make it worth the price.
If you're looking for a great hardshell guitar case for your acoustic guitar that won't hurt the bank, the ChromaCast Guitar Hard Case will be a good choice. It's a sturdy case with extra padding inside, making it ideal for protecting your acoustic guitar while saving some money.
For your electric guitar, the Gator Cases GS ELECTRIC-A Electric Guitar Case is a good and affordable hardshell case that comes with features such as a sturdy bolted handle, EPS Foam interior that is covered with a plush lining that secures your electric guitar while it is stored and even extra storage compartments for your other guitar accessories.
Soft Case
Now if you want something that's in the middle of a gig bag and a hardshell guitar case, a Soft Case might be what you are looking for.
Think of it as something similar to a gig bag that offers more padding and protection while still remaining lighter than your standard hardshell guitar case. Soft cases are also easier to travel with when compared to a hard case as it usually comes with shoulder straps, making it easier to carry around.
It's a good alternative to have if you wanted something that was like a hybrid of a gig bag and hard case.
2. Guitar Tuner
Making sure that your guitar is properly tuned before playing it is very important. This is where a reliable guitar tuner comes in. There are some free guitar tuner apps that you can download onto your phone, but if you want to have a more accurate tuning for your guitar, investing in a clip-on guitar tuner will do the job right. Luckily, clip-on guitar tuners are relatively cheap and easy to use.
Benefits of Using a Clip-On Guitar Tuner
Clip-on guitar tuners are easy to use and are more accurate at tuning your guitar. These type of tuners have a contact microphone built-in that detects low-level vibrations of pitch while it is clipped onto your guitar's headstock.
Not only can you get a more accurate tuning, but you will also be able to tune your guitar in noisy environments, something that a free guitar tuner app will have trouble with.
You can use the clip-on tuner on a variety of different instruments such as a Classical/Acoustic/electric guitar, bass guitar, ukulele, and violin.
Clip-on tuners are also very portable due to their small size, making it easier for guitarists who are always on the go.
And last but not least, they are relatively cheap compared to the other types of tuners you can purchase.
Chromatic Tuner vs Non-Chromatic Tuner
Non-Chromatic Tuner:
A non-chromatic tuner is designed to tune a guitar in the standard EAGDBE tuning. These type of tuners will recognize what string you are trying to tune and will indicate if the current tuning is sharp or flat in relation to the string that is being played.
If you plan on only tuning your guitar into standard EAGDBE tuning, then a non-chromatic tuner should do the trick. You also save some money as non-chromatic tuners are usually cheaper than chromatic tuners.
If you plan on using alternative guitar tunings, then you should consider getting a Chromatic Tuner.
Chromatic Tuner:
A chromatic tuner is designed to show tuning relative to the nearest semi-tone, allowing you to tune your guitar strings to any of the 12 pitches of the chromatic scale. (C, C#)
This type of tuner gives you more flexibility when tuning your guitar and can be very necessary to have as songs sometimes require you to use an alternative guitar tuning from the standard EAGDBE.
The Snark ST-2 Multi-Instrument Chromatic Tuner is a good choice if you're looking to buy a trustworthy chromatic guitar tuner.
3. Guitar Straps
Having a good reliable guitar strap is an essential accessory to have if you ever plan on playing the guitar while standing up and moving around.
I say "reliable" because you don't want your strap coming loose or breaking while you are playing your guitar.
I've had an instance where the guitar strap I was using broke off during a performance on stage. It was one of the worst things that could possibly happen during a performance as I was forced to keep on performing while awkwardly holding up my guitar with a broken strap hanging from it.
Talk about embarrassing…
From that day on, I realized how important a good quality guitar strap really is and decided to never settle for a cheap quality guitar strap that may break at a very inconvenient time.
If you want a good quality guitar strap that isn't too expensive, I would recommend an Ernie Ball Black Polypro Guitar Strap due to its good quality and cheap price. It does the job well and also saves you some money for the time being. It also comes in many colors and designs so you have a lot of options to choose from.
If you want something even more sturdy and reliable, I would recommend getting a leather guitar strap like the Iconic Leathers Wide Black Dual Padded Guitar and Bass Strap. You can adjust the strap to fit your needs and it's very comfortable to wear as it distributes the weight of your guitar, making it feel lighter than it actually is.
4. Guitar Strap Locks
If you want to secure your guitar strap even more for extra reliability, you should consider buying some strap locks.
The Guitar Savers Premium Strap Locks are very convenient and inexpensive to buy.
They are easy to set up and will ensure that your guitar strap won't be popping off while you play your guitar.
It's also not distracting due to its low profile design, keeping the attention on you and your guitar playing.
Overall, this is an affordable purchase if you are looking into buying a set of strap locks for your guitar straps.
5. Capo
A capo is a very common guitar accessory used by guitarists of various skill levels.
This little device allows you to use the same chord shapes to play songs in different keys and can even simplify songs that would normally require the use of barre chords.
This doesn't necessarily mean that you don't ever have to learn barre chords, it just makes it more possible for you to play a variety of different songs. It also familiarizes you with different chords and progressions which will be beneficial for you as you improve as a guitarist.
This makes capos great for beginners as they allow them to have the ability to play more songs even with limited knowledge of chords.
Many singers and songwriters use capos too. Being able to adjust the capo on the neck of your guitar to fit different keys makes it easier for singers and songwriters to find the key that fits the song that they working on.
Overall, a capo is a very useful guitar accessory to have. If you're looking for a good, affordable guitar capo, the Kyser Quick-Change Capo is the way to go. I've had mine for a couple of years now and it's still working for me, even after constant use.
6. Guitar Picks
Guitar picks are one of those essential guitar accessories to have, especially if you play guitar with steel strings. The sound you get from strumming a guitar with a pick will sound more full and louder while using your fingers produce a softer and richer tone.
While you could just stick to playing guitar with your fingers, it can be difficult if you decide to play with a steel string guitar due to the steel strings having more tension compared to nylon strings.
Using a guitar pick will help you play notes faster, for example whenever you have to play guitar solos or riffs. You'll also have a better sound when strumming on a steel string guitar with a pick.
You'll have a lot of guitar picks to choose from as there are many different styles that can fulfill your different needs. Just keep trying out different guitar picks until you find the one that fits your playing style the best.
7. Guitar Pick Grips
Since we already talked about guitar picks, let's talk about guitar pick grips.
It can happen to anyone. We're playing guitar for a long period of time when suddenly the guitar pick we are using falls out of our hands. It could be because of the fatigue from holding the pick and playing the guitar for a long duration of time, but it could even happen early on in your guitar session or live performance on stage.
Using guitar pick grips can help resolve these issues from happening.
You simply attach the grip to the pick of your choosing, and you're good. This will significantly reduce the likelihood of you dropping your guitar pick while playing the guitar.
Do keep in mind that some guitar picks already have its own grip as a part of its design, but if you're like me and many of your guitar picks don't have any type of grip, try out this great alternative.
8. Guitar Pick Holder

Picks are small tools that can easily get lost or misplaced. I use to go to my local music store just to buy some extra guitar picks due to me losing them all of the time.
A solution I found to this reoccurring issue of losing my guitar picks was installing a pick holder onto my guitar.
I simply attached the pick holder onto the back my guitar's headstock, allowing me to have easy access to my guitar picks.
The Dunlop 5005R Pick Holder is a choice for any guitarist looking to buy a pick holder. It can hold a good amount of picks and it's spring loaded design makes it easy for you unload a pick for use.
It's very easy to set up and the adhesive back allows you to install it anywhere that is most convenient for you.
It also comes in a pack of 3 so if one breaks you can easily replace it. You could even put it on other surfaces like the inside of your guitar case so you will always have extra picks ready for use.
9. Guitar Pick Puncher (Pick Maker)
This is a fun guitar gadget to have in your collection of guitar accessories. The Pick-a-Palooza DIY Guitar Pick Punch (Premium Pick Maker) is a tool that can be used to make your own guitar picks out of any thin piece of plastic.
You can use your expired credits cards, gift cards, old hotel key cards, and other thin pieces of plastic to make your own unique guitar picks.
It works like a hole puncher making it easy to use for anyone. Simply grab a thin piece of plastic, punch into it with your Pick-a-Palooza Guitar Pick Punch, then BAM! You just created your own personal guitar pick.
This device is engineered to last a very long time, providing you with an endless amount of quality guitar picks, as long as you have some extra pieces of plastic laying around.
It is a very useful guitar gadget to have and it is definitely a good gift for any guitarist.
I have to say, this is one of those guitar accessories that you never thought you wanted or needed.
10. Headphone Guitar Amplifier
Have you ever tried practicing guitar late at night, but got told to keep it down because you were waking everyone up? Sometimes our schedules are so jam-packed that the only time we have to practice is at night.
Having a good Headphone Guitar Amplifier will allow you to play the guitar as much as you want in the late-night jam sessions while not disturbing your roommates or neighbors.
The Vox AP2AC amPlug AC30 Headphone Amplifier is a go-to device if you're looking for a good headphone amplifier.
This device comes with a lot of features:
Dedicated Gain, Tone, and Volume Controls
3 Distinct Amplifier Voicings
9 built-in effects: Chorus x3, Delay x3, Reverb x3
Foldable design that rotates up to 180°
Headphone Output
Aux-input allowing you to jam along with any mp3 device (iPods, Smartphones, mp3 players)
It's as easy as plugging it into your guitar, configuring your settings to your needs and going straight to playing.
You won't have problems disturbing anyone while you play your electric guitar.
11. Guitar Cables
If you have an electric guitar, you're going to need cables.
It would be best to have good quality cables so you don't have to deal with any annoying problems such as hissing and misconnections.
If your budget is tight, you could always settle for some cheap cables, but you will notice a better tone coming from your guitar if you use higher quality cables. They also last longer so you'll get your money's worth if you decide to invest in the more expensive cables.
Cables are also important if you ever plan to set-up your own personal home recording studio, as you will need them to record your guitar playing.
Here's a link to our article for The 10 Best Guitar Cables (ULTIMATE BUYERS GUIDE 2019).
Wireless guitar systems are getting more and more popular and are great for guitarists who don't want to deal with guitar cables all of the time.
While many guitarists still choose to stick with the traditional guitar cables set-up, there are benefits to using a wireless guitar system that you should consider.
With a wireless guitar system, you will have more freedom to move around while playing your guitar. This is great if you're the type of guitarist who likes to move around on stage when they're performing.
It is still possible to move around with a guitar cable set-up, but there is a risk of getting tangled up or even unplugging your guitar. (Lots of pass experience)
Wireless guitar systems are even good for those practice sessions and jam sessions. It doesn't get as messy with a bunch of cables laying around and it's also easy to pack up once the practice/jam session is done.
The price of a wireless guitar system may not be as cheap as buying a set of guitar cables, but these systems are getting cheaper while the quality of these devices is constantly improving.
If you're the type of guitarist that enjoys the freedom of movement, fewer cables, and the convenience that comes with a wireless guitar system, then this type of device is right for you.
13. Guitar Strings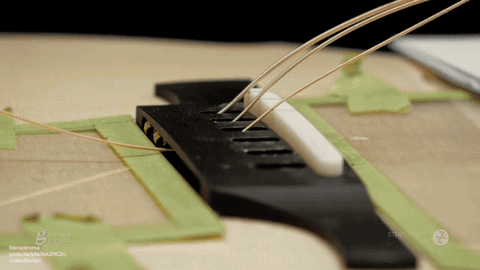 You can't play the guitar without any guitar strings and even if you already have a stringed guitar, it doesn't hurt to have some extra sets just in case.
Many guitarists believe that the only time to change your strings is when one of them breaks, but that's not always the case.
Over time, your guitar strings begin to lose the quality of its tone. Our hands deposit oils, dirt, and even sweat onto our guitar strings causing our strings to corrode.
Also, guitar strings are under tension, causing it to lose its brightness of sound.
You may also run into tuning problems as your guitar strings age such as your guitar not staying in tune.
Overall, guitar strings go through constant wear and tear, so you will notice a loss of quality of sound the more the strings go through.
Changing your strings is very necessary if you want to have a good quality tone coming from your guitar.
Having an extra set of guitar strings can also be good if you ever run into any problems like your guitar strings breaking on you.
We put together a list of the best guitar strings available in the market. If you want to check that list out, click here: The 10 Best Guitar Cables (ULTIMATE BUYERS GUIDE 2019)
14. Guitar String Wipes
There are ways to extend the life of your guitar strings.
One of those ways is to keep your strings cleaned with some guitar wipes.
Like what I talked about earlier, every time we play our guitars, our hands leave dirt, oils, and sweat onto our strings. Over time, this will cause your guitar strings to erode.
After a long guitar session, wiping down your guitar strings with guitar wipes will help clean and remove all of that gunk. This can help extend the life of your guitar strings, meaning you won't have to restring your guitar as often.
Ernie Ball Wonder Wipes are great for cleaning your guitar strings if you are considering purchasing some string wipes.
15.  String Winder and Cutter
If you're a guitarist, changing your strings become a normal thing for you. A string winder and cutter is a good tool to have that makes the process go much smoother every time.
The Planet Waves Pro String Winder and Cutter is an excellent tool to have in your guitar case. You never know when you will have a string break on you, so make sure to have the right tools and extra sets of strings ready.
What I personally like about this tool is that it's really easy to use and it's pretty self-explanatory.
It's a 3 in 1 tool that comes with a peg winder, clipper for your strings, and a bridge pin puller. Having all of these tools in one is very convenient and it makes the restringing process much easier.
It's not the highest end tool you will find, but it does the job every time and the price is too good to pass on.
16. Guitar Stands
You may be asking, "Do I really need a guitar stand if I already have a case/bag for my instrument?
While it is true that you can store your guitar in your case/bag and save a little bit of money, there are benefits of owning a guitar stand.
This is especially true for beginners who are just starting out. One of the hardest things about learning the guitar could be finding the motivation to play it. If our guitars are inside our case stored inside our closet, practicing the guitar probably won't be high on our priority list.
Like the saying goes, "Out of sight, out of mind."
It just becomes a hassle grabbing your guitar out of your case every time you want to practice or play it.
If your guitar is placed on a guitar stand, there is more accessibility to your instrument making it easier for you to go straight to playing.
This is really good for beginners because you'll always see your guitar, practically begging you to play it. Like myself, you'll find yourself picking up your guitar more often during your spare time throughout the day.
17. Music Stands
Music stands are great for any guitarist as it makes it more convenient for you to practice playing songs.
It also allows you to practice playing while standing up, allowing you to get a feel for what it might be like if you were to perform the guitar on stage.
If you like to print out your guitar tabs, having a music stand also makes it easier for you to organize all of the sheets of tabs while you are practicing.
The Manhasset Model #48 Sheet Music Stand is a longlasting, durable, and high-quality music stand that any musician will find useful for a very long time. It has good stability due to its design, having an all-steel welded bass. It also doesn't take too much space, making it great for stage performances or practice sessions in your room.
18. Metronome

A metronome is an essential tool for developing your rhythm and tempo skills. Do you really need a metronome? Can't we just practice by ear?
While you will improve with more practice, a metronome will ensure that you are practicing in an efficient way. Being able to work on your rhythm, tempo, and timing is important if you ever want to improve as a guitarist.
This is especially true if you are working with other musicians. Using a metronome during your band's practice sessions can help get you all more synchronized, ensuring that everyone is in rhythm with each other.
It's also important that you can actually hear your metronome over your playing, so keep that in mind when you are purchasing a metronome.
19. Guitar Humidifier
This is very important to have for your Acoustic guitars. Acoustic guitars are made out of wood. Anytime wood loses moisture, it begins to shrink. On our guitar's neck, fingerboard, and headstock, we have metal parts. This shouldn't come to you as a surprise, but metal doesn't shrink.
So if your guitar's wood shrinks due to dryness in the air, the metal parts on your guitar may begin to loosen up. (Frets, screws on your tuners)
When it comes to the body of the guitar, the loss of moisture in the wood could lead to cracking of the wood, overall affecting the playability of your instrument.
This is when a guitar humidifier comes into play.
It would be best to keep your guitar in your case because it will protect your guitar from the ever-changing temperatures and environment that it is in.
Now let's talk about how you can humidify your guitar while it is inside your case.
There are two main areas that you need to humidify on your guitar.
The first area is your guitar's body, and the second area is the guitar's fingerboard, neck, and headstock.
What should you use?
Dampits (Body of Your Guitar)
A Dampit Guitar Humidifier is the first tool I will talk about when it comes to humidifying your guitar while it is in its case. A Dampit is a guitar body humidifier that you will place in between the two center strings of your guitar.
Before doing so, you will be filling the Dampit with water. Before placing the Dampit into your guitar, make sure that you squeezed out enough water from it that it won't leak. We don't want any water dripping inside of our guitar. Make sure it is damp so the water vapor can reach your guitar.
Soap Dish and Sponge (Fingerboard, Neck, and Headstock)
To keep your guitar's fingerboard, neck, and headstock humidified, we can use a soap dish and sponge.
This DIY method is great for humidifying your guitar while also saving you some money.
The first thing you'll need is a soap dish with holes on the top cover. You can drill out the holes yourself if that makes it easier for you.
Second, you'll need a brand new sponge that you will dedicate to the use of humidifying your guitar. Prepare the sponge by making sure it is damp and place it inside the soap dish with the cover on.
Place your soap dish with the damped sponge inside it in your case near the pick-pocket or near the headstock to ensure that the water vapor is getting to your guitar.
20. Cleaners and Guitar Polish
It's always a good idea to keep your guitar clean and maintained to prolong the life of your instrument.
Dirt, sweat, and oils rub onto our guitars every time we play and it can take a toll on your guitar if you don't do anything about it for a long period of time.
You should always wipe down your guitar with a nice soft cloth after you play it to keep it clean.
Planet Waves Microfiber Polish Cloth is a great cleaning rag that is lint-free and won't scratch your guitar. This cloth will help you keep your guitar clean without the use of any cleaning chemicals.
Now our fretboards get dirty and dried out from our constant use and other causes such as the environment and time.
Music Nomad's MN105 F-ONE Fretboard Oil Cleaner and Conditioner is great for bringing that nice shine for our fretboards.
Not only does it clean and condition your fretboard, it also protects it and maintains its condition for months. Simply apply it onto your guitar's fretboard with the use of a soft cloth and let the wood absorb the oil. It dries fast and the results are quick. Make sure to rub it in a circular even motion to make sure you don't miss a spot when you are applying.
The best time to apply the oil would be when you are changing out your strings. You'll definitely see a difference after you apply it onto your guitar and it'll leave your fretboard looking good as new.
You should be applying this oil and conditioner a few times a year to maintain your guitar's fretboard.
Another thing you should do a few times a year is to apply a good guitar polish to maintain that nice and shiny finish on your guitar.
Ernie Ball's Instrument Polish is great for polishing your guitar with a formula that is safe to use. It also comes with a microfiber cloth that you can use for applying the polish onto your guitar.
It will leave your guitar looking nice and shiny and can even remove some micro scratches that are on your guitar's body that is common if you use your instrument constantly.
Final Thoughts
Well, there you have it, 20 guitar accessories that you absolutely need as a guitarist. Whether you are a beginner or an advanced guitar player, these tools will make a good addition to your collection of guitar accessories.
Ever wondered how long it might take to learn the guitar? Check out our article on How Long Does It ACTUALLY Take to Learn Guitar
More to Read: